WRESTING PLACE:
NEW WORKS BY
AMANDA FAY & ANTON CHAVEZ
Exploring the value of labor and socio-economic disparity through textile, found object and mixed media. October 16-November 20

This exhibition calls to attention the struggles involved in pursuit of "The American Dream."

The works featured act both as protest and homage to the trials and tribulations faced by the working class and the sociopolitical circumstances that act as obstacles towards upward mobility calling in to question, "What defines The American Dream, and is it attainable…?"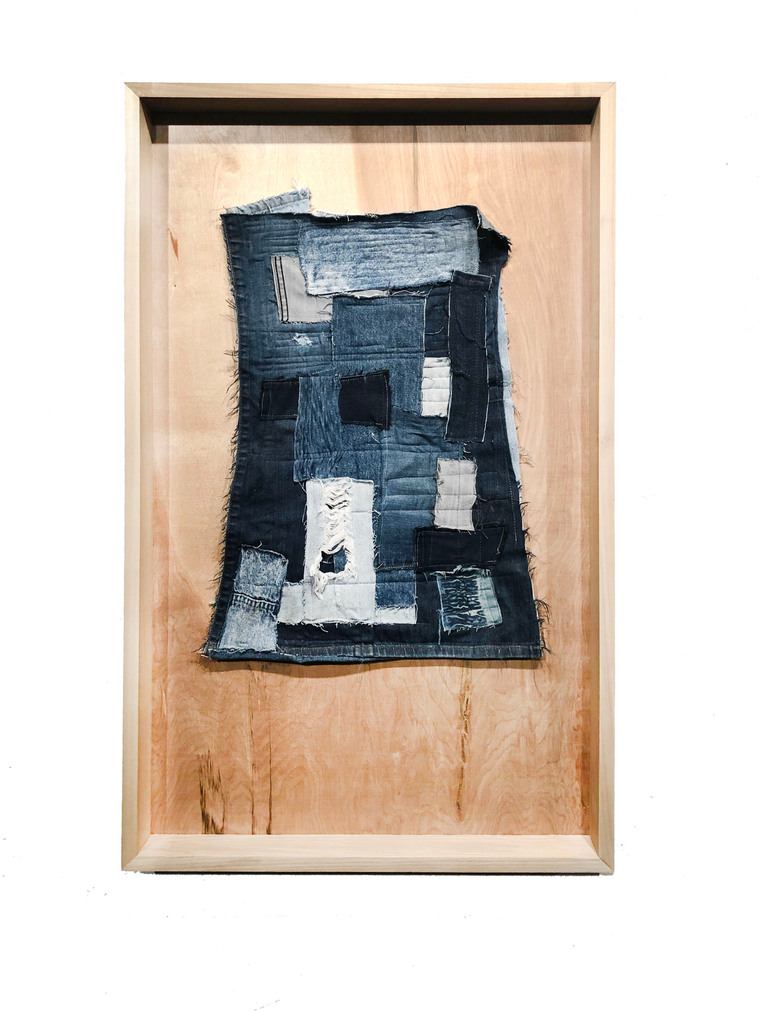 Amanda Fay
Amanda Fay is a graduate of the Savannah College of Art and Design who works primarily with textiles. This collection of work explores the practice of boro, a mending technique employed by the working class in feudal Japan, in which layers of worn out fabric were utilized to patch and repair existing garments. The recycled material was dyed with indigo, which was historically relegated to the lower class, to which Fay correlates with denim and its iconic symbolism of the working class in America.
Anton Chavez
Anton Chavez is a conceptual artist based in Austin, TX who employs debris from residential demolition sites as sculptural found objects that represent the everchanging cultural fabric and the predatory practices of neighborhood transformation. Most of the splintered building materials are harvested from the remains of homes as they are demolished to make way for new construction and multi-unit residences on Austin's East Side. The pieces act as both memorials and as guardians of heritage and history of gentrified neighborhoods across the United States and beyond.
To Schedule a Gallery Visit
Please use the scheduling link here
To share this event through Facebook click here
Eighteen Fifteen Gallery will be limiting entry and gallery capacity. Guests will be required to wear masks and will be invited to engage the artists in our outdoor backyard for questions. White gloves will be available to patrons on request while visiting the space and UVC cleaning will be preformed between appointments to ensure the safety of guests.